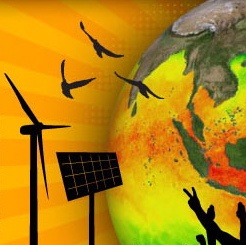 About 100 Percent Renewables (
via Rosana Francescato, The Energy Collective)
"Negative media coverage has a lot of people thinking solar and other renewable energy sources are not yet ready for prime time. But nothing could be farther from the truth.
In fact, we have the technology to get 100% of our energy from renewable sources. So what's stopping us, and how do we get to 100% renewables? That question is being answered everywhere I look these days.
A recent study claims that by 2030, we could power a large electrical grid with renewable energy 99% of the time -- without spending more than we do on electricity today. The key, given the intermittency of wind and solar, is to generate power in a distributed manner. But why stop at 99%? We have many tools at our disposal, including demand response programs, to get to 100%.
Local energy advocate Greg Pahl provides detailed ideas and case studies in his book Power from the People. He suggests generating a mixture of renewables in addition to wind and solar, including hydropower, biogas, biomass, liquid biofuels, and geothermal energy. Which sources are used should depend on what's most readily available and easy to implement in each community. All these plans deal with the issue of intermittency and reduce the need for expensive storage. Even where storage is needed, we can expect technological advances to make it more affordable and effective.
These are all great ideas, but what's really exciting is that we're no longer in the idea phase. A number of cities, countries, and businesses have started on the path to 100% renewables. Corporations, schools, and even the Department of Defense are jumping on the solar bandwagon, with some businesses committing to using 100% renewable technologies. The French think tank negaWatt claims that France, known for its dependence on heavily subsidized nuclear power, can get close to 100% renewables by 2050. And other cities and countries are more ambitious. Now an impressive list of regions are either well on their way to generating 100% renewable energy, or are already there."
The Road to 100% Renewables
Tuesday, May 7, 2013 from 5:30 PM to 9:00 PM (PDT)
San Diego, CA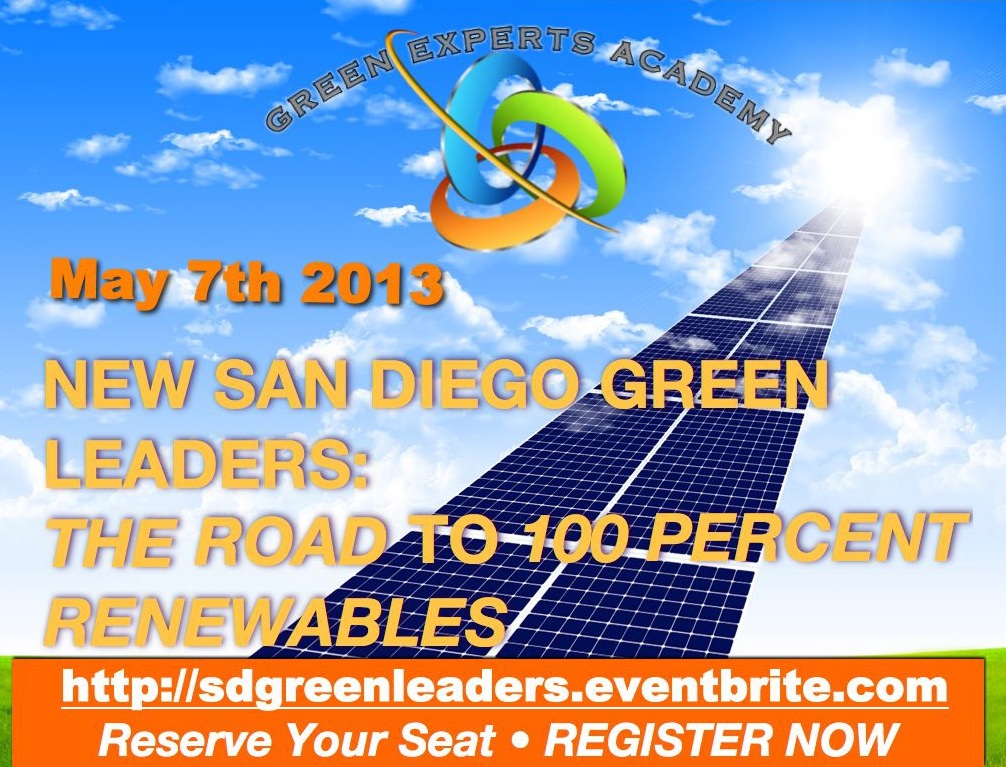 How does San Diego rapidly get to 100 % renewable energy utilization, and what best practices can we learn from Germany and other global solar leaders? How can you succeed in creating and advancing on a Green career path?
On May 7th, 5:30PM, Join New San Diego Green Leaders including San Diego Mayor Bob Filner, Supervisor Dave Roberts, San Diego Unified School Board Vice President Kevin Beiser, Special Guest Peter Vogel, Executive Vice President, Wirsol Solar, Canada, and Green Careers Recruiter/Branch Manager Scott Gayes, Adecco San Diego.
Moderator: Prof. Kathleen Connell, Founder of Green Experts Academy.
This affordable discovery and networking forum includes complimentary Cinco de Mayo foods, beverages, free parking and event materials. Hosted at Cricket Communications, Inc. in their LEED-certified corporate headquarters, 5887 Copley Drive, San Diego, 92111. Our Media Partner is East County Magazine. Register now and reserve your seat! Ticket,including reg fee: $22.09 http://sdgreenleaders.eventbrite.com
About The German Solar Model: Did You Know? -- A new study from the Lawrence Berkeley National Laboratory (LBNL) puts some hard numbers to the benefits realized when U.S. cities streamline their solar PV permitting processes. Germany's residential solar adoption is attributed to friendly policies and incentives, but also friendly permitting processes. Meanwhile, in the U.S., "soft" costs amount for more than half of the installed price for residential solar PV systems in the US. Various studies have pointed out the results: Customer acquisition costs are ten times higher in the U.S. vs. Germany, $0.67 vs. $0.06, and "overhead" adds up to $1.24/W, or $5,000 for the average system (Solar Freedom Now) $0.22/W on average for permitting + inspection + interconnection, including $0.09/W in fees (NREL) Local permitting and inspection adds $0.50/W, or $2,500 per residential install, and nearly a month of delays (SunRun) Labor costs alone add $0.11/W, and eight weeks average permitting time (Clean Power Finance)